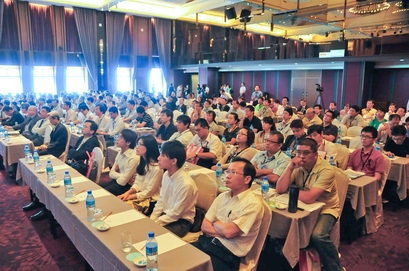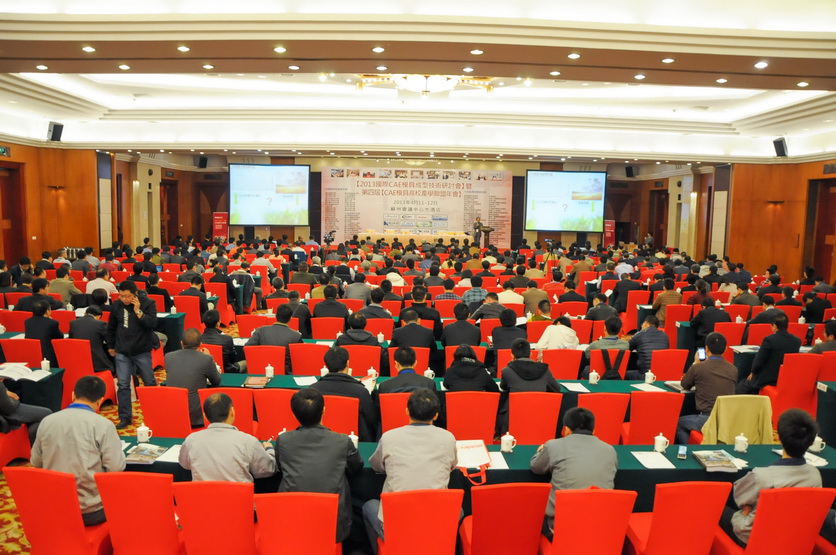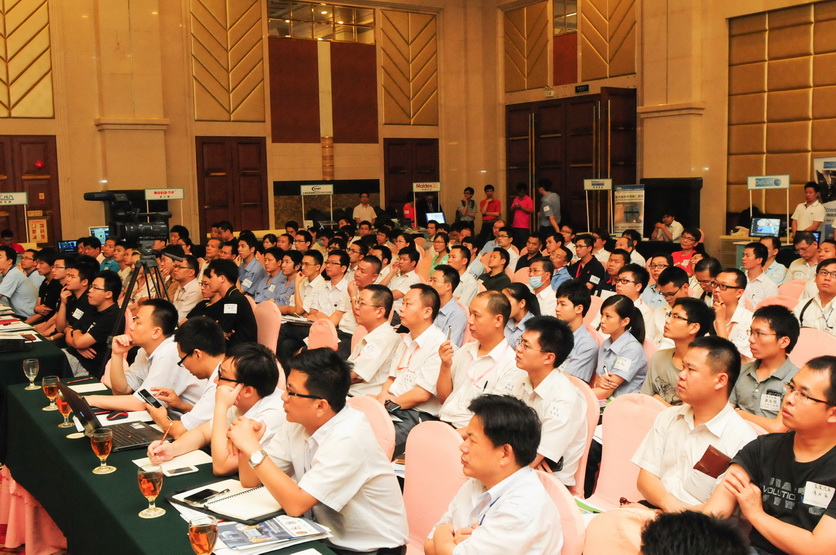 CAE Molding Solution Alliance Conference (CMSA) is the leading worldwide institution of professionals in industry-university cooperative research. We develop long-term partnerships among industry and academe. For past four years, CMSA has championed the technology exchange on CAE molding field and remains focused on providing the membership of resources, knowledge, and education that will empower its organization to reach organizational Competitiveness.


Each year, under one roof and one room, CMSA brings leading experts together to discuss the latest challenges and opportunities of CAE applications in advanced manufacturing industry. CMSA annual conference focuses on both practical and applied aspects of CAE technology, covering a broad range of industry-specific topics, such as Direct Metal Laser Sintering Process, Conformal Cooling, Green Molding, and Advanced Hot Runner, etc. Until now, the annual conference has received highly positive response from more than thousands of industry peers and over 500 corporations, shaping a premier networking and knowledge-sharing forum for industry professionals from all levels.



Preliminary Agenda
【Agenda at a Glance】

【Plenary Session Agenda】Day1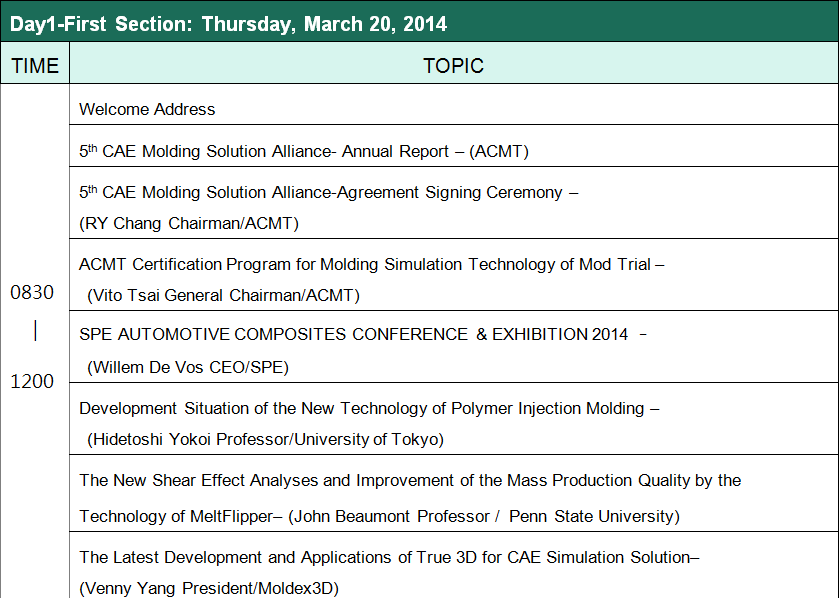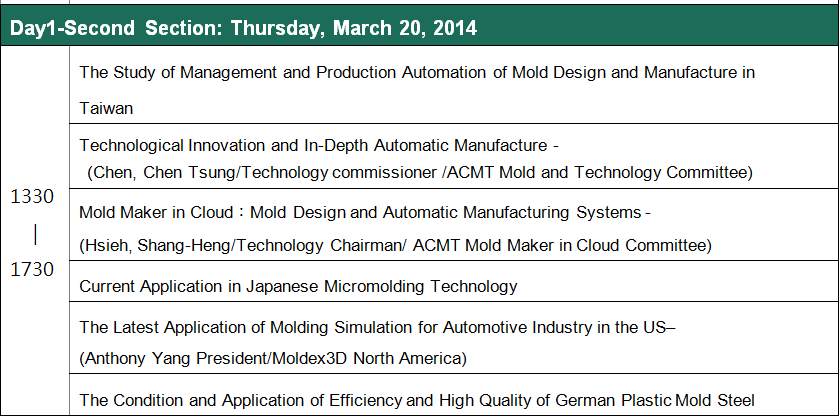 【Breakout Session Agenda】Day2
(84 Topics @ 6 Conference Rooms)


Organizers:CAE Molding Solution Alliance (CMSA)
Cooperation:Moldex3D、iCAx
Date: March 20-21, 2014
Locations: Dongguan, China
Venue: Parklane Hotel - 222 Dezheng Road, Changan, Dongguan, China

Registration Fee:
Early Bird I:Jan 07-Jan 29, 2014
Early Bird II : Jan 30-Feb 20, 2014
Regular : Feb 21-Mar 21, 2014
The attendance fee includes conference literature and admission to
two days conference, as well as the lunches and refreshments during
the break.

Regular

Early Bird I
until Jan29

Early Bird II
until Feb20

Payment:
Conferee should be made payment to organizers by March 18 via bank transfer. Or, please pay to the recpetion desk on the date of the event with cash only.

Receipt:
Conferee will receive the receipt at the reception desk on March 20 and 21. If you have any special request, please let us know what we can do to accommodate them.

Conference Fact :
More than 700 attendances and 90 conference papers expected.
About 500 attendances are from 250 businesses and 200 attendances
are from 100 educational organizations.
About 90 oral papers will be presented in the conference literature.


CMSA2014-Dongguan(Joint Companies:350,Participants:700):(Estimate)
CMSA2013-Suzhou(Joint Companies:280,Participants:562):Review
CMSA2012-Taipei(Joint Companies:188,Participants:410):Review
CMSA2011-Guangzhou(Joint Companies:150,Participants:300):Review
CMSA2010-Xiamen(Joint Companies:180,Participants:385):Review




※Parklane Hotel





The Dongguan Sub-branch of the Parklane Hotel finds its location in the city of Dongguan which stands in the middle of the cities clustered around the Pearl River Delta in Guangdong Province. Nowadays, Dongguan City is becoming increasingly inviting for business conferences, expositions and holidays with its reputation for its tourism standard, modern manufacturing industry, urban gardening and social development.

Our hotel is conveniently connected to various transportations available with the waterway at the neighboring ferry terminal and expressways and airways. From our hotel to Hong Kong International Airport or to Guangzhou Airport it both takes just 90 minutes and only 20 minutes to Shenzhen International Airpor.

Our hotel offers you heartfelt services for your business trip and holiday relaxation. As a five-star garden hotel, it can accommodate our guests with 400 rooms, 10 multi-purposes banquet rooms and 7 dining rooms. It also entertains you with bars, deluxe KTV, SPA service, fitness center, indoor and outdoor swimming pools, a tennis court and an indoor basketball field. By the way, a golf course and a forest park can be found at the neighborhood.

Website:http://www.parklanehotel.com.cn/

Parklane Hotel - 222 Dezheng Road, Changan, Dongguan

Miss Wu(Peggy Wu)
Phone:+886-2-89690409#16
FAX:+886-3-5600198
E-mail:peggywu@moldex3d.com