Universitas Katolik Indonesia Atma Jaya yang dikenal juga dengan nama UNIKA Atma Jaya didirikan pada 1 Juni 1960 yang saat ini merupakan salah satu dari 15 universitas tertua dan universitas swasta terkemuka di Indonesia. Motto UNIKA Atma Jaya adalah "UNTUK TUHAN dan TANAH AIR", yang menunjukkan tujuan para pendirinya yang sangat luhur. Berlandaskan kepada motto tersebut, UNIKA Atma Jaya selalu ingin berkontribusi untuk perkembangan ilmu pengetahuan para anak bangsa dan teknologi di industri tanah air. Untuk dapat tetap konsisten terhadap nilai-nilai murni yang dideklarasikan oleh pada pendiri tersebut maka UNIKA Atma Jaya selalu menyesuaikan diri terhadap perubahan generasi dan perkembangan teknologi. Hingga saat ini UNIKA Atma Jaya telah memiliki 8 Fakultas yang terdiri dari Fakultas Ekonomi dan Bisnis (FEB), Fakultas Ilmu Administrasi Bisnis dan Ilmu Komunikasi (FIABIKOM), Fakultas Pendidikan dan Bahasa (FPB), Fakultas Teknik (FT), Fakultas Hukum (FH), Fakultas Kedokteran (FK), Fakultas Psikologi (FP) dan Fakultas Teknobiologi (FTb) yang tersebar di Kampus Semanggi yang merupakan kampus utama, Kampus Pluit dan Kampus Bumi Serpong Damai (BSD) seperti yang terlihat di Gambar 1.
Atma Jaya Catholic University of Indonesia, also known as UNIKA Atma Jaya, was founded on June 1, 1960, which currently one of the 15 oldest universities and leading private university in Indonesia. "FOR GOD AND FOR THE COUNTRY" is UNIKA Atma Jaya's motto, which shows how UNIKA Atma Jaya always strives to contribute to the development of nation children's knowledge and technology of the industry. To keep the consistency of its values, UNIKA Atma Jaya always self-adjust to the change of generation and technology. Until now, UNIKA Atma Jaya has 8 faculties which consist of Faculty of Economics and Business (FEB), Faculty of Business Administration and Communication Studies (FIABIKOM), Faculty of Education and Language (FPB), Faculty of Engineering (FT), Faculty of Law (FH), Faculty of Medicine (FK), Faculty of Psychology (FP) and Faculty of Biotechnology (FTb). These faculties are widely spread in Semanggi Campus (main campus), Pluit Campus, and Bumi Serpong Damai Campus (BSD) as shown in Figure 1.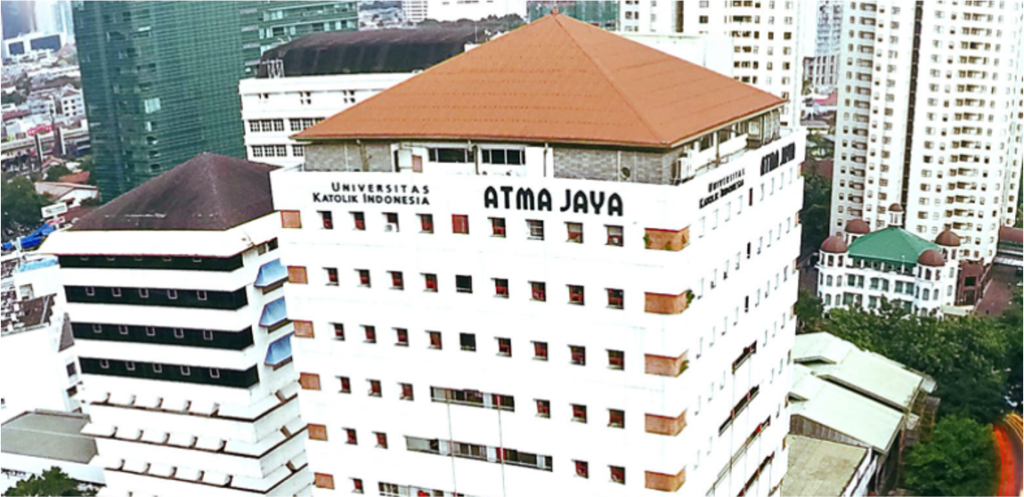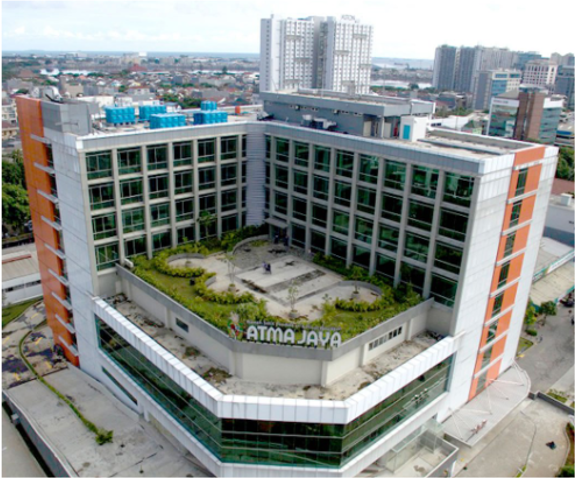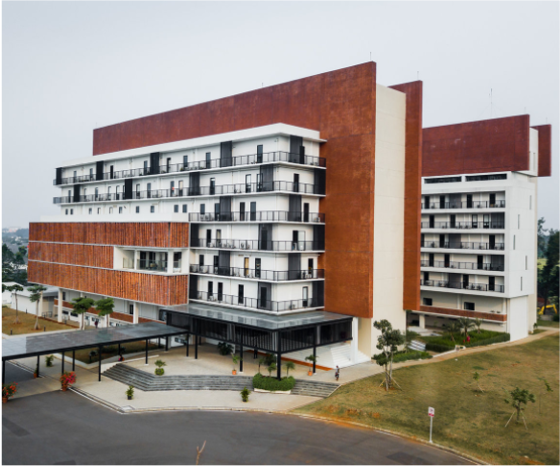 Untuk memenuhi kebutuhan bangsa akan sumber daya manusia dan mendukung teknologi rekayasa (engineering) industri di tanah air, UNIKA Atma Jaya mendirikan Fakultas Teknik pada tanggal 1 Juli 1961 dengan Program Studi pertama yakni Teknik Mesin. Hingga saat ini Fakultas Teknik telah memiliki 4 Program Studi Sarjana Strata 1 (S-1) terdiri dari Program Studi Teknik Mesin, Teknik Elektro, Teknik Industri dan Sistem Informasi dan 2 Program Studi S-2 yakni Magister Teknik Mesin dan Magister Teknik Elektro serta 1 Program Studi Pendidikan Profesi Insinyur. Tantangan di zaman modern saat ini di mana teknologi revolusi industri 4.0 sangat menentukan model bisnis pada industri yang berskala menengah ke atas sangat dipahami oleh semua program studi yang ada di bawah Fakultas Teknik sehingga setiap Program Studi ingin mempersiapkan mahasiswa masing-masing secara interdisiplin agar profil lulusan yang dideklarasikan sejak awal dapat tercapai dan para lulusan nantinya cepat terserap dan mengembangkan ilmu pengetahuan mereka di industri.
Fakultas Teknik memiliki visi menjadi fakultas yang memiliki keunggulan akademik dan profesional di tingkat nasional dan internasional dalam bidang ilmu teknik dengan dilandasi nilai-nilai Kristiani untuk kemaslahatan masyarakat, yang mampu bersaing lokal dan global di era teknologi terkini pada tahun 2030.
Dalam rangka mencapai visinya, Fakultas Teknik khususnya Prodi Teknik Mesin memfokuskan diri pada smart and precision manufacturing dengan menggunakan material polimer yang dapat dimanfaatkan terutama di bidang automotive. Karena banyak keuntungan yang dapat dicapai, penggunaan polimer pada industri automotive telah meningkat sangat pesat dan di banyak bagian interior dan eksterior (Gambar 2) telah dapat menggantikan posisi baja.
To meet the nation's need for human resources and support industrial engineering technology in Indonesia, UNIKA Atma Jaya established the Faculty of Engineering on July 1, 1961, with Mechanical Engineering as the first Study Program. At present, the Faculty of Engineering has 4 Undergraduate Study Programs consisting of the Mechanical Engineering, Electrical Engineering, Industrial Engineering, and Information Systems Study Programs. Also, UNIKA Atma Jaya has 2 Master's Study Programs which are Master in Mechanical Engineering and Master in Electrical Engineering, and 1 Engineer Professional Education Study Program.
The challenges in the modern era where the technology of industry revolution 4.0 greatly determines the business model in the middle to upper scale industry are very well understood by the Study Programs under the Faculty of Engineering. Each Study Program prepares students in an interdisciplinary manner so that graduates of Unika Atma Jaya will be able to develop their knowledge in the industry. The Faculty of Engineering has vision to become a faculty with academic and professional excellence at the national and international levels based on Christian values for the benefit of the society ​​that can compete locally and globally in the technological era in 2030. To achieve this vision, The Faculty of Engineering, especially the Mechanical Engineering Study Program, focuses on smart and precision manufacturing using polymer materials that can be used in the automotive field. The use of polymer in the automotive industry has rapidly increased due to the many benefits of polymer materials. Recently, the polymer material can replace steel in many interior and exterior parts of automotive (Figure 2). The main advantage is polymer materials mass is much lighter than steel so that the weight of the car becomes lighter by replacing interior and exterior components with the polymer. Consequently, the use of fuel will more efficient, and indirectly reduce climate and environmental damage from pollution and gas resulted from the burning of fossil fuels. The use of polymers also makes it possible to mass-produce components in large quantities and in a relatively short time using the injection molding process. The surface quality and precision of the injection molding results greatly depend on the design, construction, and manufacturing process of the mold. A variety of surface textures can be easily produced. Since mold is made of steel so the wear is low, and hence the identic of each product is guaranteed.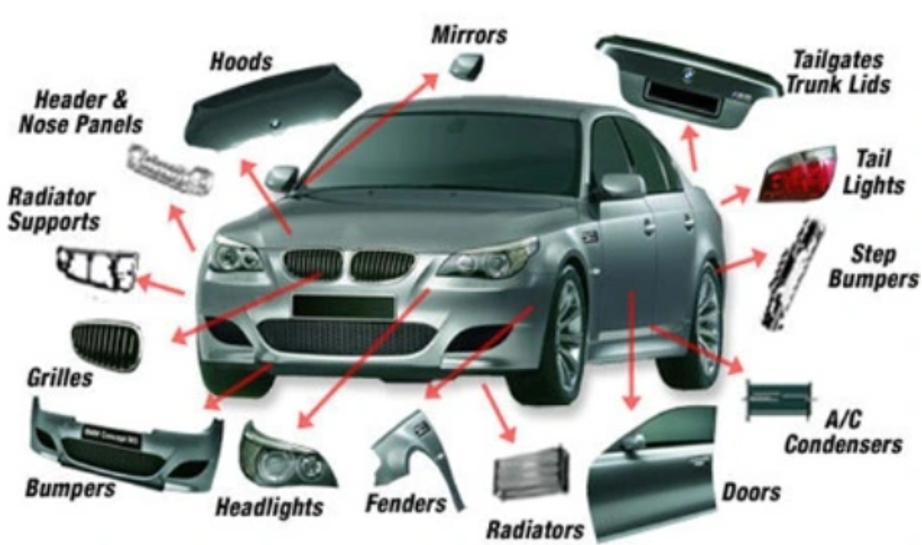 Keuntungan paling besar adalah massa polimer yang jauh lebih ringan dibandingkan dengan baja, sehingga dengan digantinya banyak komponen interior dan eksterior (Gambar 2) yang tadinya dari baja menjadi polimer maka berat mobil menjadi lebih ringan yang tentunya akan menyebabkan penggunaan bahan bakar minyak yang lebih irit dan secara tidak langsung akan mengurangi pembebanan lingkungan dan klima oleh polusi dan gas efek rumah hasil pembakaran bahan bakar fosil.
Penggunaan polimer juga memungkinkan untuk menghasilkan komponen-komponen secara massal dalam jumlah yang besar dan waktu yang relatif sangat singkat dengan menggunakan metode proses produksi injection molding. Kualitas permukaan dan kepresisian dari hasil injection molding sangat tergantung kepada disain dan konstruksi serta proses manufaktur dari mold. Tekstur permukaan yang beragam dapat dihasilkan dengan relatif mudah. Disebabkan penggunaan baja sebagai material mold, maka keausan sangat minimal sehingga keidentikan setiap hasil cetakan dapat terjamin dengan baik.
Pada tahun 2019, Fakultas Teknik telah menandatangani Memorandum of Understanding (MoU) dengan perusahaan CoreTech System Co., Ltd., Taiwan yang memproduksi software simulasi Moldex3D yang dapat digunakan untuk mendisain mold injection molding. Kesepakatan yang dilakukan adalah dibidang akademik dan hubungan dengan industri. Di bidang akademik, Fakultas Teknik diberikan 25 academic licences yang akan diinstalasi pada komputer yang ada pada Laboratorium Engineering Design Center (Gambar 3) dan akan digunakan untuk praktikum mahasiswa yang berhubungan dengan mata kuliah Metode Elemen Berhingga dan kegiatan penelitian mahasiswa. Agar proses belajar mengajar yang terkait dengan proses simulasi dan anaisis hasil simulasi injection molding dapat berjalan dengan lancar maka CoreTech dan Fakultas Teknik UNIKA Atma Jaya akan membangun modul-modul pembelajaran bersama dan telah ada dosen yang telah mendapatkan "Moldex3D Analyst Certificate". Kedepannya CoreTech juga berkomitmen memberikan kesempatan kepada 50 mahasiswa Fakultas Teknik UNIKA Atma Jaya per tahun untuk mendapatkan "Moldex3D Junior Analyst Certificate" yang tentunya akan meningkatkan kualifikasi dan kompetensi mahasiswa Fakutas Teknik di industri.
Di bidang hubungan dengan industri, Fakultas Teknik akan menjadi tempat konsultasi bagi perusahaan-perusahaan yang tertarik untuk mengintegrasikan software simulasi Moldex3D dalam proses injection molding mereka.
In 2019, the Faculty of Engineering has signed a Memorandum of Understanding (MoU) with the CoreTech System Co., Ltd., Taiwan which develops Moldex3D simulation software for design injection molding molds. The agreements are in the academic and industry fields. In the academic field, CoreTech gave the Faculty of Engineering 25 academic licenses of Moldex3D software which will be installed on the computer in the Engineering Design Center Laboratory (Figure 3), and will be used for student practice related to the Finite Element Method course and student research activities. To smooth the teaching and learning process related to the simulation process and analysis of injection molding simulation results, CoreTech and the Faculty of Engineering of Unika Atma Jaya will create teaching modules. At present, there is a lecturer in Atma Jaya has received "Moldex3D Analyst Certificate". In the future, CoreTech commits to provide opportunities for 50 students per year to get the "Moldex3D Junior Analyst Certificate" which will certainly improve the qualifications and competencies of Engineering Faculty students in the industry.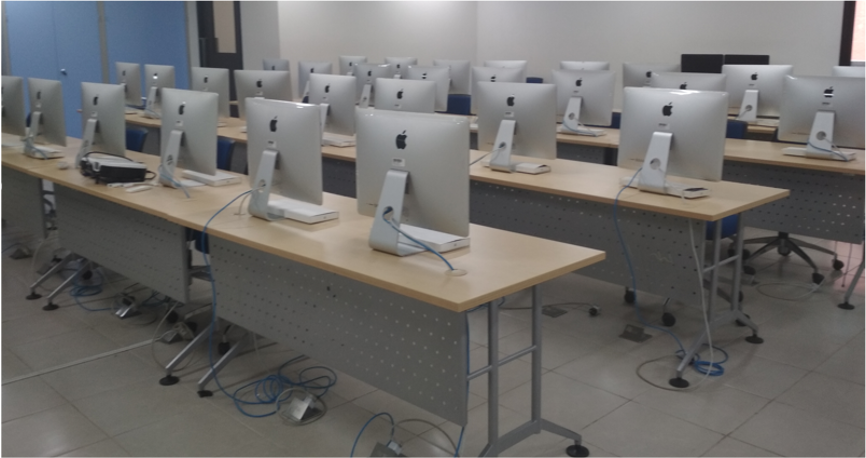 Pada hari Kamis, 21 November 2019 bertempat di ruang rapat 7 Kampus 3 BSD, diadakan pertemuan dengan pihak Association of CAE Molding Technology, Taiwan (Vito Tsai selaku Presiden ACMT), Smart Manufacturing Center, ACMT Thailand (Dr. Angus C. A. Chang), dan CYCU (Dr. Hariyanto Gunawan) dan pihak Fakultas Teknik & Prodi Teknik Mesin (Dekan FT, Wadek FT, Kaprodi Teknik Mesin dan Prof. Hadi Sutanto) (Gambar 4). Diskusi membahas rencana program kerjasama dengan industri dan penyelenggaraan Molding Technology Conference di UAJ. Pertemuan ini ditindaklanjuti dengan penandatangan MoA antara FT UAJ dan pihak ACMT Taiwan.
Regarding industry relations, the Faculty of Engineering will be a consulting place for companies that are interested in integrating the Moldex3D simulation software into their injection molding process. On Thursday, 21 November 2019 at the meeting room number 7 Campus 3 BSD, a meeting was held with the Association of CAE Molding Technology Taiwan (Vito Tsai as President of ACMT), ACMT Thailand (Dr. Angus C.A Chang), Smart Manufacturing Center CYCU (Dr. Hariyanto Gunawan) and the Faculty of Engineering & Mechanical Engineering Study Program (Dean of FT, Vice Dean FT, Head of Mechanical Engineering Study Program and Prof. Hadi Sutanto) (Figure 4). The meeting discussed the planning of a collaboration program with the industry and conduct the Molding Technology Conference at UAJ. This meeting was followed up by signing the MoA between FT UAJ and ACMT Taiwan.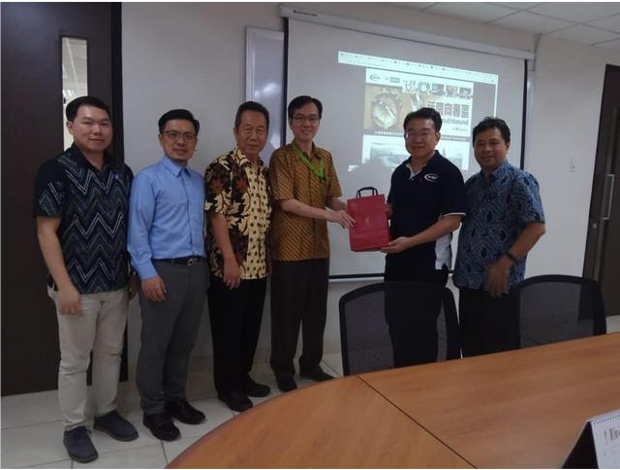 Pada tahun yang sama, Fakultas Teknik juga telah menyepakati kerjasama dengan Association of CAE Molding Technology (ACMT), Taiwan, yang ditandai dengan ditandatanganinya MoU di Taiwan (Gambar 5). Kesepakatan yang pernah dibicarakan bersama adalah menempatkan perwakilan ACMT Indonesia pada Fakultas Teknik UNIKA Atma Jaya yang nantinya akan memberikan support dan transfer pengetahuan kepada industri yang bergerak di bidang injection molding. ACMT juga berkomitmen akan membantu Fakultas Teknik dalam pengadaan mesin injection molding yang nantinya akan digunakan untuk praktikum mahasiswa serta demonstrasi proses injection molding pada industri dan juga untuk kegiatan penelitian.
In the same year, the Faculty of Engineering agreed to cooperate with the Association of CAE Molding Technology (ACMT), Taiwan, which was marked by the signing of the MoU in Taiwan (Figure 5). The agreement was to place ACMT Indonesia's representatives at the Atma Jaya Faculty of Engineering, which support and transfer knowledge to the injection molding industries. ACMT also commits to assist the Faculty of Engineering in procuring injection molding machines which will be used for student practice, research activity, and demonstration of the injection molding process to industry.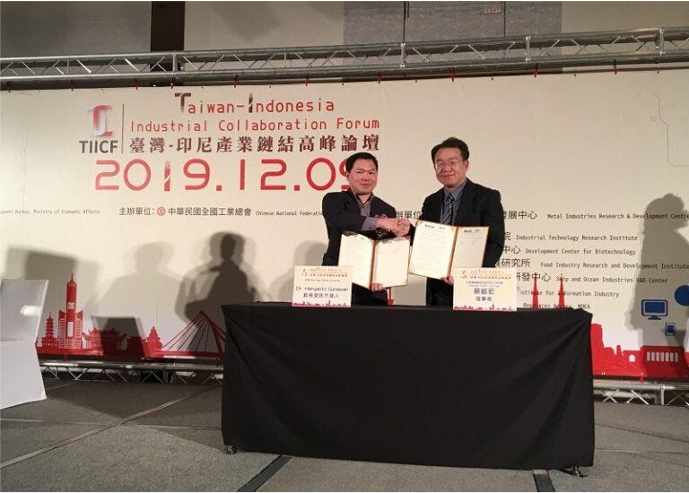 Agar supaya hasil optimasi dari simulasi metode numerik dengan menggunakan Moldex3D dapat terealisasi dengan dibuatnya cavity plates, Fakultas Teknik akan didukung oleh Laboratorium Proses Manufaktur (Gambar 6a) dan Laboratorium Cumputer Numerical Control (CNC) dan Metrologi Industri (Gambar 6b) dengan memanfaatkan mesin CNC MAZAK yang memiliki 5 derajat kebebasan yang merupakan mesin turning yang dilengkapi dengan kemampuan untuk milling dan drilling.
To realize the Simulation results of Moldex3D by manufacturing cavity Mold, the Faculty of Engineering will be supported by the Manufacturing Process Laboratory (Figure 6a), the Computer Numerical Control Laboratory (CNC), and Industry Metrology Laboratory (Figure 6b) with utilizing 5-axis turn-mill MAZAK CNC machine.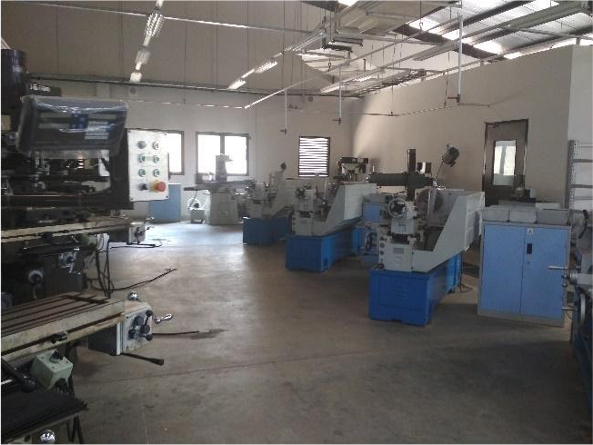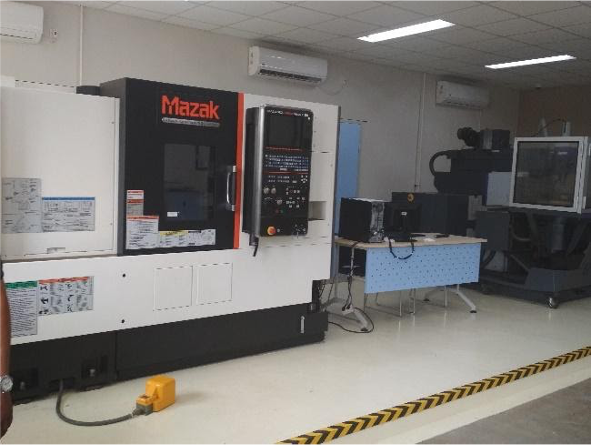 Pembuatan cavity plates mesin injection molding yang memiliki kepresisian yang tinggi berbasis smart manufacturing akan menerapkan teknologi Industri 4.0 seperti Cyber-Physical Systems, Internet of Things, Bid Data Analysis, dsb. Dalam hal ini Fakultas Teknik akan berkerjasama dengan Mechanical Engineering Department, Chung Yuan Christian University (CYCU), Taiwan.
Kerjasama antara Fakultas Teknik UNIKA Atma Jaya dengan CoreTech, ACMT dan CYCU yang saling melengkapi kedepannya bertujuan untuk memberikan solusi kepada industri injection molding di Indonesia terhadap masalah yang dihadapi dan mempersiapkan mahasiswa-mahasiswa yang nantinya akan menjadi tenaga ahli yang memiliki pengalaman dan basis yang kuat yang akan ikut membantu mengembangakan industri automotive di Indonesia. Disamping itu keempat institusi di atas dengan dukungan pihak industri automotive dan industri lainnya akan merencanakan diselenggarakannya conference satu tahun sekali sebagai ajang untuk mengupdate informasi seputar perkembangan teknologi di bidang injection molding.
The making of high-precision cavity Mold for injection molding is based on smart manufacturing which applies Industry 4.0 technologies such as Cyber-Physical System, Internet of Things, Big Data Analysis, etc. In this case, the Faculty of Engineering will collaborate with the Department of Mechanical Engineering, Chung Yuan Christian University (CYCU), Taiwan. The aims of collaboration between the Faculty of Engineering UNIKA Atma Jaya, CoreTech, ACMT, and CYCU is to provide problem-solving to the injection molding industry in Indonesia. Also to cultivate students to become experts who have skills and experiences that can help to develop automotive industries in Indonesia. Meanwhile, the four institutions above with the support of the automotive industry and other industries will conduct a conference once a year to exchange knowledge and update information about injection molding technology development.
Taiwan Contact
TEL:+886-2-8969-0409
E-Mail:info@caemolding.org